Tegnap napon belül 20%-os pluszban is volt, mert kijött egy hír, mely szerint az STX-nek nem kevés tulajdonrésze van a Ripple-ben. Méghogy nincs kriptodeviza-buborék!!!!


Summary
Seagate Technology invested in the Series A and B of Ripple, owner of 61% of XRP, a top-three cryptocurrency.
Ripple holdings of XRP are currently worth over $180B on the market.
If Seagate still has its Ripple investment, it could plausibly be worth $7.8B, two-thirds of its market cap.
The street has given zero credit for its crypto-investing prowess.
Many words have been used to describe Seagate Technology (NASDAQ:STX), a large manufacturer of hard disk drives: dated technology stock, stable dividend player, acquisition target.
How about masterful cryptocurrency investor? It turns out that Seagate Technology invested in both the 2015 $28m Series A and 2016 $55m Series B rounds of Ripple, the company that owns 61% of XRP, a top-three cryptocurrency in the world.

Source: Crunchbase.com
According to CoinMarketCap, there are currently 100B total XRP in existence, of which Ripple (the company), owns 61B. At current prices (~$3/XRP), this is worth $183B on paper.

Source: Coinmarketcap.com
We can hypothesize that Seagate has not cashed out its investments in Ripple, as it participated in both the Series A and Series B, and there hasn't been a major liquidity event for the company. If you believe that it still maintains this investment, the question then becomes: What percentage of Ripple does it own and what is it worth relative to its $12.4b market cap?
According to TechCrunch (Setting The Right Valuation For A Competitive Series A Round), "Generally, the valuation range results in the group of Series A investors taking 15-25 percent of the company."

Source: Techcrunch.com
In the Ripple Series A, there were 12 investors in the round, which was led by IDG Capital Partners. It's hard to say what the breakdown of investment was within the round, but combining that fact with the 15-25% cut mentioned above, we can estimate that Seagate bought around 1% of Ripple at that time.
According to LawTrades (What is the Usual Percentage of Shares that go to Seed, Series A, and Series B Rounds? - LawTrades), a company raising a Series B can expect to sell about 33% of its equity.
In the Ripple Series B, there were 10 investors in the round, which was led by SBI Investments. Doing the same calculation as above, dividing the 33% expected equity sale to 10 investors, we can estimate that Seagate bought around 3.3% of Ripple at that point.
Therefore, across the two rounds, a rough estimate is that Seagate bought and owns 4.3% of Ripple.
Multiplying that figure by the $183B of XRP that Ripple currently owns, we can estimate that the current value of Seagate's investment in Ripple is approximately $7.8B, or roughly two-thirds of the market capitalization of the company.
It seems the market has accepted Seagate as a stodgy old-technology company and has overlooked the value of its investment in Ripple. Otherwise, if we assume that the market has fully priced in the value of the Ripple investment, the rest of the company is trading at less than 6x earnings.
Furthermore, the price action in the last year doesn't reflect the value that a 4% investment in Ripple would add to the company. Ripple increased by 30,000% in 2017, which should have added billions to the share price of STX, had it been priced in. Instead, STX was up 9.6% in 2017.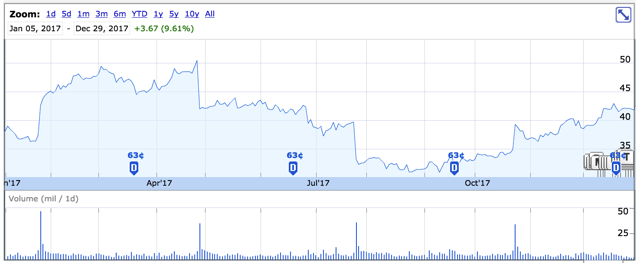 Source: Google Finance
The fundamental business of Seagate is the manufacture and distribution of hard disk drives. Although overall company revenue has declined the last couple years, the company still made a $786m profit in the TTM period. The company is trading for ~12x earnings and pays a dividend yield of almost 6%. An earnings multiple of low teens seems reasonable for such a business, not including the hidden asset of Ripple.
If you factor the above Ripple valuation of $7.8b, the value of the underlying hard disk drive business is about 4.6B, or approximately 5.9x earnings. If there is indeed a hidden investment in Ripple, the stock is a screaming buy at this level.
Overall, I think that a readjustment of value by the street could cause a massive upside price move in STX, and those who believe in the long-term viability of Ripple should relish the chance to own a part of the company.